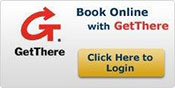 Welcome to Holiday Corporate Travel
Lower Prices for your Company? Here's the answer:
Airline, Hotel, and Car vendors will sincerely negotiate with Corporations that have consolidated their travel under one Travel Management Contractor (TMC). The vendors need this information to measure the worth and potential of a client asking for a discount. Another factor they consider is how strong your travel policy in relation to directing your employees in the use of the negotiated rates of the vendors. This metric application is critical when managing a corporate travel policy.
Airline Business is based on relationships and we have a great one with the airlines that benefit our clients:
Increased leverage in negotiating airline discount programs.
Preferred clearance of clear waitlisted flights for lower airfares.
The ability to circumvent certain ticketing rules and time limits.
Preferred reductions and waivers for group and meeting travel requirements and deposits.
Free upgrades for business and first class.
Volume discounts on domestic and international travel.
Two for one Business Class airfares worldwide.
International Air Savings Programs featuring preferred airlines with substantial savings on Business Class Airfares.
Hotels
Holiday Travel is an American Express representative offering discounted rates at over 40, 000 hotels.
We also negotiate rates at hotels that you prefer as a free service to your company.
Last Room Availability and No "Walk" AgreementsThe Buying Power to get a room when the hotel is sold out.
No Show charges waived in most instances based on your volume.
Cars
Holiday Travel can negotiate with any car company for you, as well as bring you offers from Alamo, Avis, Budget, Hertz, National, and Enterprise.
Corporate nation wide rates for mid size cars may be as low as $34 a day with unlimited mileage.
Free upgrades when available
Free Membership in frequent renter clubs
Reporting
Real Time online reporting allows you to access your reports from anywhere and can tell you where your travelers are at any given time.
There are over 100 available reports.
New online reports can be created on an as needed basis to be customized to your specific needs.
Reports can also be created and run from our back office and e-mailed to you in various formats.
These can also be customized to your account needs.
Pricing Guarantee
Holiday Travel guarantees that all airline tickets are issued at the lowest available airfare and in compliance with any negotiated discounts and customer specific travel policies. The search for the lowest available airfare begins while the traveler is on the phone making a reservation. Each agent's workstation is equipped with a low fare search called Low Price Finder. This system allows the agent to book an itinerary and then automatically search the airline database of over three million airfares for the most cost-effective rate between the cities booked. Even low cost carriers including Southwest and Ryan Airlines are available. This process normally takes 5 to 15 seconds to perform. Once the ticket has been issued, the primary concern is that of a lower airfare becoming available in the market. Our Price search product, Fare Manager continues to monitor the airfares even after a ticket is issued. If a lower fare becomes available, it automatically notifies the booking agent. The agent then reviews the airfare discovered and advises the traveler via email that a new lower fare is available. If the lower airfare exceeds any penalties for reissue, and does not change the restrictions on the ticket and is on the exact same itinerary, the agent will complete the reissue and notify the traveler. We will refund or credit any difference in a lower found scheduled carrier price.